What is the "Greeting" for Easter Season?
We say "Merry Christmas!" or "Happy Christmas!" but what about Easter? Does it have a greeting! Yes, there is an ancient and universal greeting of celebration for Easter: Greeting: Alleluia! Christ is risen!   Response: The Lord is risen indeed, Alleluia!
This is called the Paschal Greeting, or the Easter Acclamation.   So: Alleluia! Christ is risen!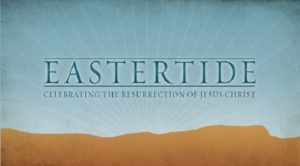 Wednesdays in Eastertide!
Wednesday Supper and Reflection @ 6 PM
Please grab your favorite food and drink and join us Wednesdays at 6 pm in Eastertide for Supper & Reflection. We will reflect on what Resurrection means for our lives, especially at this moment in time. We will consider thoughts by theologians, artists, and wordsmiths. Come join the discussion!
Meeting ID: 997 0807 3400
Or with telephone:
+1 669 900 6833 US (San Jose)
+1 253 215 8782 US
---

Wednesday Zoom Room Sunday School
Our "Zoom Room" for children and teens is ready to go! Your kids and teens are invited to Weekly Wednesdays with Susie Coffman. For kids Kindergarten through Grade 5, look forward to sharing some fun, lively lessons and the opportunity to see, hear and share with each other. For middle and high schoolers, we'll take time to share, connect and reflect. Look at the links below and find your child's grade group. Each grade group has its own time slot so we can keep our lessons and conversation age appropriate. If you have questions, please contact Susie at scoffman@ccparish.org
---
Kindergarten, First Grade, Second Grade
Wednesday 4:00 pm – 4:30 pm
Join Zoom meeting by dial in  
+1-253-215-8782  or   +1-301-715-8592 US  
Meeting ID 947-3921-9097
Grades 3, 4, 5
Wednesday 5:00 pm – 5:30 pm
Join Zoom meeting by dial in  
+1-253-215-8782  or   +1-301-715-8592 US  
Meeting ID 947-3921-9097
Junior High and Senior High
Wednesday 7:30 pm – 8:00 pm
Join Zoom meeting by dial in  
+1 253-215-8782  or   +1-301-715-8592 US
Meeting ID  980-9320-0285
---
You can mark the abundance of the Easter season by choosing to celebrate Easter every day, transforming what often seems ordinary into a spiritual practice.  Here are ways to celebrate this Easter season:
Sit outside in the sun.
Plant something that will provide nourishment in the season ahead.
Add some color to your living spaces.
Go on daily walks, noticing how spring (or autumn, for those Down Under) continues to unfold each day.
Buy fresh flowers—just because!
Keep a gratitude journal.
Talk to your children about what's bringing them life and then join them in their play.
Make a playlist of songs that bring you joy.
Collect images that stir your soul on a vision board.
Eat dessert first!
Find creative ways to liven up your daily tasks.
Set aside time each day to pursue an activity that brings you life.
Feed the birds.
Give to an organization that is bringing life to others.
Cuddle with your pet.
Check something off of your bucket list.
Write down a list of things that bring you joy for when you need a boost.
Take a day off work to instead go slowly and savor.
Practice saying "no" to things that drain you.
Catch up with an old friend with whom you've lost touch.
---
Books To Read
The Unlikely Pilgrimage of Harold Fry
by Rachel Joyce
The Seventh Most Important Thing
by Shelley Pearsall
Home
by Marilynne Robinson
Movies To Watch
The Lion King.
E.T.
The Terminator.
Beloved.
Chronicles of Narnia: The Lion, the Witch and the Wardrobe.
The Crow.
Meet Joe Black.
Secondhand Lions 
 The Matrix 
Schindler's List 
Tender Mercies
Truman Show
Patch Adams
Superman Returns