VISION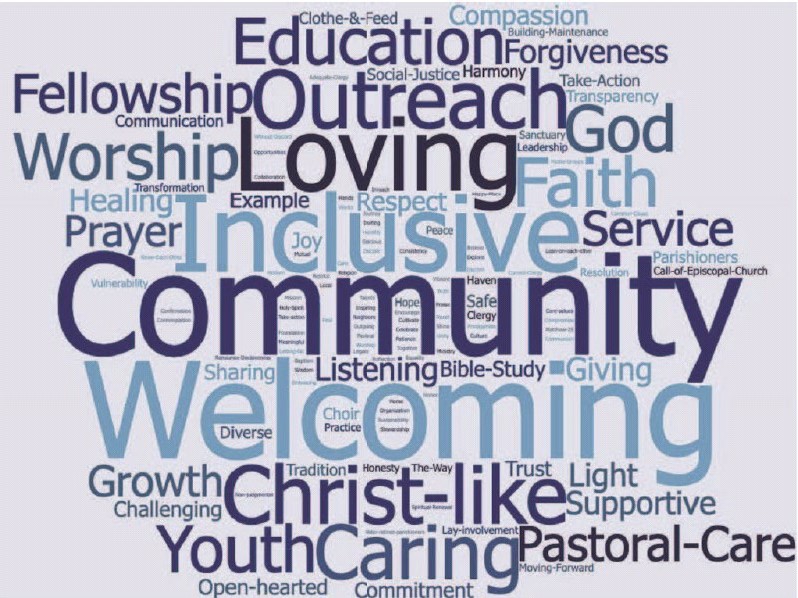 MISSION
Christ Church Episcopal Parish welcomes all families and every person to a community of rich tradition and contemporary social awareness. We thrive in communion with God and fellowship with one another.
CORE VALUES
WORSHIP:  Gathering together for Holy Eucharist, fellowship, and reflection, we aspire to encounter God, to enable spiritual transformation, and to embrace our life in Christ.
"Rejoice always, pray without ceasing, give thanks in all circumstances, for this is the will of God in Jesus Christ for you." – 1 Thessalonians 5:16-18
COMMUNITY: Coming together in our desire to see Christ in all people, we welcome, include, and celebrate every person in an environment of love, support, and open communication.
"How very good and pleasant it is when kindred live together in unity!" – Psalm 133:1
SPIRITUAL GROWTH: Sharing God's love, we invite all ages to grow in spirit and be transformed through multiple opportunities for worship, education, service, and fellowship.
"Guide me in your truth, and teach me, for you are the God of my salvation; for you I wait all day long."            – Psalm 25:5
PASTORAL CARE: Working in partnership, clergy and parishioners bring Christ's love and care to parish members who need support for body, mind, and spirit.
"As each has received a gift, use it to serve one another, as good stewards of God's varied grace."                  – 1 Peter 4:10
COMPASSION IN ACTION: Engaging our parish, we follow Jesus' call to love one another by working alongside and serving our greater community and the world to promote peace, justice, health, and sustainability.
"for I was hungry and you gave me food, I was thirsty and you gave me something to drink, I was a stranger and you welcomed me, I was naked and you gave me clothing, I was sick and you took care of me, I was in prison and you visited me." – Matthew 25:35-36
"The earth is the Lord's and all that is in it, the world, and those who live in it; for he has founded it on the seas, and established it on the rivers." – Psalm 24:1-2