[wds id="1″]
---
Located in the Hamlet of Beavercreek a specially trained herd of "horse therapists" help students overcome their grief, face their fears, build self-confidence, learn to trust, foster a sense of responsibility and develop problem-solving skills. Big Star provides equine-assisted therapies to emotionally fragile children and adults. A majority of the students come from foster care organizations or county program referrals. Big Star's approach goes far beyond simply teaching someone to ride and groom a horse. The instructors begin with the basic fundamentals of living in relationship with any other creature, including trust, patience, listening and many more.
Volunteers: Help with barn cleaning and maintenance, office work, building, and construction.
Contact:  Julie Daniels danielspdx@gmail.com
Bridges of Compassion (BOC) is a local and holistic youth development organization aimed at bridging the church and the community to providing weekly 'adventure club' activities and monthly field trips/special events for children in Portland and Vancouver.  As a surrogate father/mother to the community, we provide financial and volunteer assistance, and we also transport kids to and from the annual 'FREE' tennis camp held each summer as well as other outings.
Volunteers: Assist with various activities by serving as a mentor or helping to transport these children to special events.
Contact: Stewart Bartlett  Stew_Bartlett@yahoo.com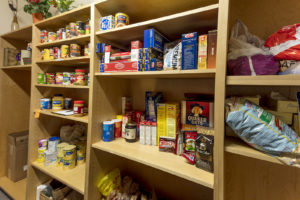 Christ Church Episcopal Food Pantry
Our parishioners donate a variety of canned, dried food products and infant formula that is stored and distributed to local church outreach ministries and food banks by our ministers, staff, and volunteers. Please note expiration dates on food products for safety purposes. Your donations make a difference in our community and thank you for your continued support!
Volunteers: Any parishioner who donates food products!
Contact: Steve Whittaker steve@whittpho.com
Good Samaritan
Ministries & Sam's Attic
This retail store is run completely by volunteers, selling gently used clothing, household and sports equipment. All items donated and the proceeds are used to pay teacher's salaries in Uganda.
Volunteers: Help run the operations of the store and others donate Items to the store.
Contact: Barbara Davis tango3571@comcast.net
Building decent, sustainable and affordable housing for qualifying working individuals. We provide labor and financial assistance.
Volunteers: Construct, furnish and landscape homes and feed volunteering work crews.
Contact: Terry Crawford tpcrawfords@comcast.net
Our parishioners support Union Biblica, which provides abandon youth in Peru with education, medical care, and housing; also supporting Alta Cayma Mission, which works to break the cycle of poverty in the settlements outside of the city of Arequipa through nutrition, education, job training And health programs. Support also goes to the Anglican mission in Lima. We provide financial and volunteer assistance.
Volunteers: Join team Peru and provide on-site help.
Contact:  Candace Trotter ctrotter1969@msn.com
A Thank You From Health Bridges
Holiday Sharing
Provides Christmas gifts for various local programs like Outside- In, the NW Pilot Project and the Children's Relief Nursery. At Easter, we provide baskets for the children in need throughout the Metropolitan area with donations taken from the Giving Tree and donate and deliver gifts.
Contact: Vicki Cena bvcena@comcast.net   Barbara Davis tango3571@comcast.net
This program is sponsored by the Lake Oswego Senior Center and is focused on providing nutritious and affordable meals to seniors living in Lake Oswego.
Contact: Diana Fisher: dfisher44@gmail.com
Lake Oswego Transitional Shelter Ministries (LOTSM) http://www.lotsm.org/
This ministry runs two shelters in Lake Oswego that help needy families transition into sustainable and independent living. We provide volunteer, food and financial assistance in conjunction with several Lake Oswego area churches.
Contact: Vicki Cena bvcena@comcast.net
This is a school for day students and boarders that provides primary and secondary for over 1000 children in rural Uganda. We provide financial and volunteer assistance.  We have helped to build the school and new restrooms, support teacher salaries, and provided a van to assist with supplies and medical emergencies.
Contact: Mary Sullivan masullivan17@comcast.net
Christ Church Episcopal Parish and volunteers have supported Potluck In The Park for over 26 years, feeding 500+ hungry guests in downtown Portland every Sunday.  This is our largest Outreach program in terms of rotating volunteer numbers with more than 60 people involved including families and teens. Each Sunday, for one and half hours, teams rotating every Sunday sort food that has been donated from food institutions such as Trader Joe's. Our teams prepare in the Parish kitchen casseroles, salads, soups and beverages. We have and need more volunteer cooks and drivers who prepare and deliver these warm meals and help serve them in downtown Portland.
Volunteers: rotating teams pick up, sort, prepare, deliver and serve food, every Sunday.
Contact: John Bacialli JBacialli@umpquainvestments.com
Based in North Portland, this organization is run by a retired school teacher Faye Palmerton. TLC/TnT offers support for families keeping kids in school and away from gangs. We provide financial assistance for summer camps and volunteers for events throughout the year.
Volunteers: Speak on meaningful topics of interest to teens and college students and we help with camps.
Contact:  Vanessa Borovicka Vanessa.borovicka@nike.com
William Temple
Christ Church Parish has a long relationship with this Episcopal facility and, in fact, helped start William
Temple House.
Contact: Linda Goertz : lindagoertz@comcast.net  Diana Fisher   dlfisher44@gmail.com